Imagine as if you are exercising in warm water. The movements should be natural and flowing, as gentle and peaceful as water. Feel the water around you to move with and against it; and, when you release your power, it should be as powerful as the crashing water with the force it generated from the movements.
What is Tai Chi?
Tai Chi (more commonly known as Taiji in China) is an internal Chinese martial art widely practiced for both its health benefits and its defence training.
Tai Chi movements combine soft and hard, with slow and fast actions. The slow and gentle movements are relaxing and meditative, while the fast and powerful movements ("Fa Li", or release energy) improves ones fitness and self-defence applications.
During the process of each movement good coordination is required, with shifting central gravity, inhale and exhale, and internal Qi exchange; in essence, your body work (external) and mind work (internal) need to become one. All these elements are the keys to reach the balanced harmony of "Yin" and "Yang", the Taoist philosophical principles to which Tai Chi adheres to.
Tai Chi is becoming more and more popular throughout the world for the physical and mental benefits one gain from practicing this form of Chinese Martial Art, while many are captivated by its unique cultural and historical background.
About our Tai Chi
A balanced combination of soft (meditation, breathing, and testing energy) and hard ("Fali"- release energy), all the exercises are tailored to suit people of all ages and abilities to attain the two core aspects of Taiji - Health & Defence.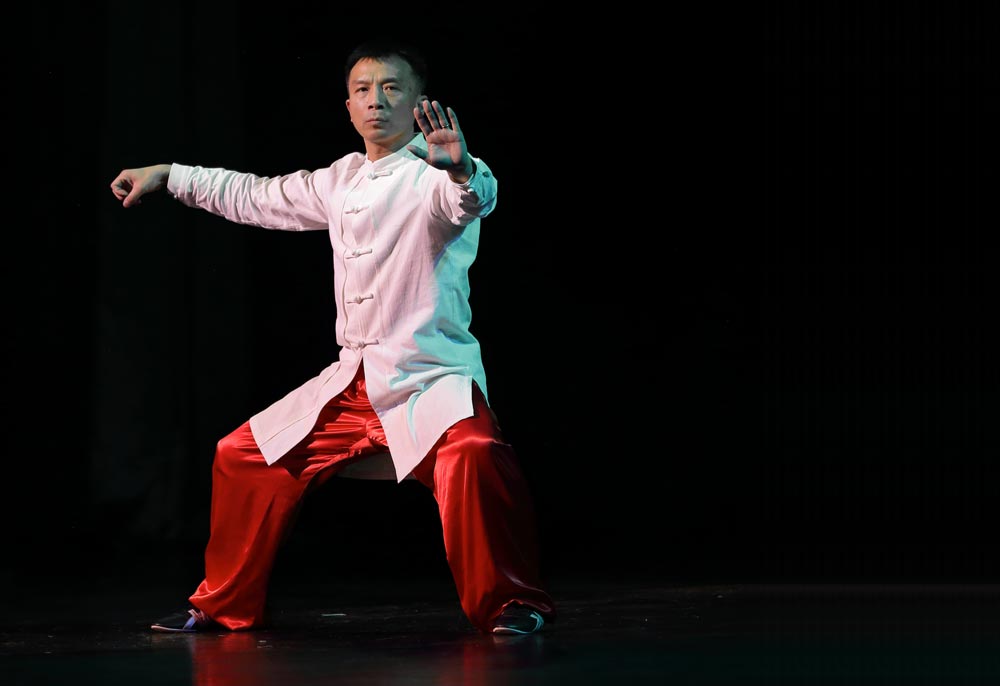 Chen Style Taijiquan
The style of Tai Chi we teach is Chen Style. It is considered the oldest and parent form of the five traditional family styles (Chen, Yang, Wu (Hao), Wu and Sun), and has been kept secret and hidden within the Chen Village for hundreds of years. To preserve their sacred art in its purest form the artistry was only passed from masters to selective students, and only recently has it become known internationally. Although relatively new to the West, Tai Chi is regularly practiced in China by many people of all age and ability as it offers great all-round benefits to health.
Benefits
Relieves the physical effects of stress on the body and mind.

Regulates the internal systems of the body, improving digestion, respiration and circulation.

Strengthens bones, joints and muscles without strain.

Improves balance, focus, flexibility and coordination to promote health and vitality.
Visit our classes page to find times and venues.